Orchard Software is deploying a Point-Of-Care Testing Network to provide connectivity and management for point-of care testing (POCT), including COVID-19. The Orchard® Point-of-Care Testing Network™ is designed to help businesses integrate and connect POCT across multiple locations. The subscription-based, SaaS solution will allow users to automate and manage POCT processes through device integration and system interfacing, enabling electronic test ordering and automated result reporting. This connectivity enables rapid communication of, and response to, POCT results.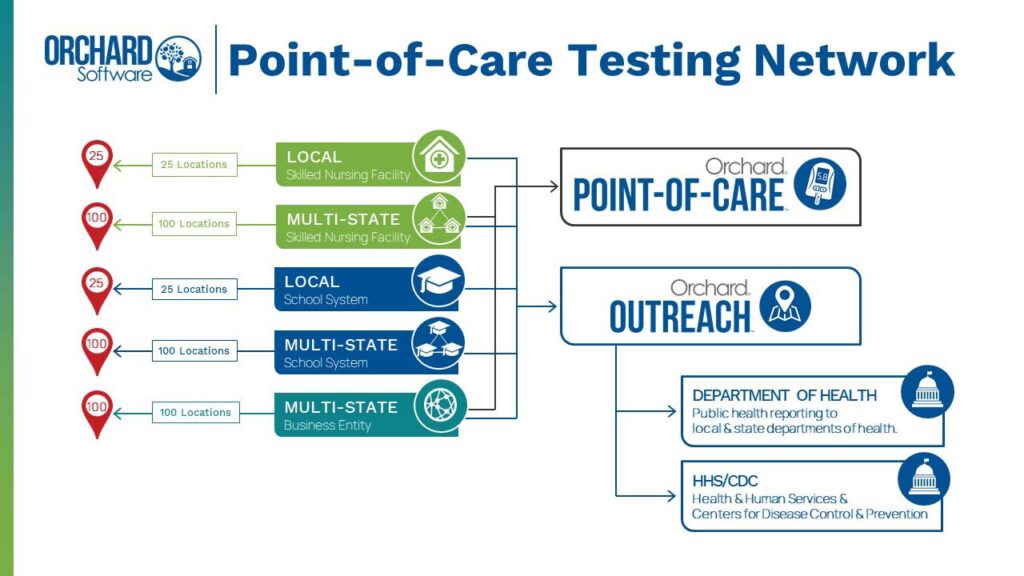 The Orchard Point-of-Care Testing Network is of specific benefit to skilled nursing facilities in helping them effectively manage their POCT by tracking devices and operators, managing orders and results, and enabling rapid test turnaround time. The POCT Network's SaaS model makes the system easy for businesses to implement and use, and provides top-level security, reliability, and system management. The POCT Network can assist senior living facilities and other businesses that may require a CLIA certification by managing clinical questions and providing data mining and decision-support tools that compile and report required data. The Orchard Point-of-Care Testing Network can also be used by other businesses to automate and manage point-of-care testing processes.
Specific to the COVID-19 pandemic, the Orchard Point-of-Care Testing Network enables rapid disease reporting so that patients can receive timely diagnoses and treatment. Advanced decision-support rules route reflex testing based on various criteria, automatically send reflex test orders to reference labs based on CDC guidelines, and auto-verify results to speed delivery to recipients, meeting various government reporting requirements. By streamlining COVID-19 result tracking, contact tracing and appropriate quarantining can be initiated to help mitigate disease spread.