For patient bedside specimen collection, Orchard Software offers Orchard® Collect™, a positive patient identification (PPID) point-of-care (POC) collection tool that combines use of a tablet or desktop, bar code scanner, and wireless printer to organize and confirm accurate laboratory specimen collection.
Prevalence of Patient ID Errors
Most laboratory professionals are aware of the higher prevalence of errors in the pre-analytical stage compared to the analytical and post-analytical stages of laboratory testing. Proper patient identification and accurate specimen labeling are the vital first steps to quality patient care and accurate lab results.
A common workflow scenario involves phlebotomists printing large batches of lab orders and specimen labels, putting them on their phlebotomy trays, and carrying those trays to patients, room to room. This method can result in the phlebotomist accidently using a prior patient's labels to mislabel the next patient's tubes at the bedside. A patient misidentification root cause analysis performed at VA hospitals found that 72% of errors were due to mislabeled specimens.1 Unfortunately, 9% of patient identification errors lead to temporary harm, permanent harm, or death.1
PPID Technology Reduces Errors
Using a PPID tool, such as Orchard Collect, can help reduce patient ID errors and improve patient safety. With Orchard Collect, phlebotomists see a picture of the patient on the screen when they pull up the patient's lab test orders, and they scan the patient wristband to ensure PPID. Combine this with a verbal confirmation of another identifier, such as date of birth, and PID errors should disappear. The Orchard Collect system streamlines the process of proper patient ID and decreases the opportunity for patient ID errors.
How Collect Works
Orchard Collect integrates with Orchard® Harvest™ or Orchard® Copia® to organize bedside sample collection. The system uses a tablet or desktop computer with a Bluetooth-enabled label printer and small scanner/bar code reader. The wireless printer allows labels to be printed right at the bedside, and the scanner is used to scan both patient wristbands and tube labels that take the user directly into the correct patient file. Phlebotomists can transport the Orchard Collect system on a cart as a "workstation on wheels" or fit all components into a tote bag.
Once phlebotomy is completed, collection information is electronically submitted, and collected specimens' statuses are indicated in the LIS. When a connection is available, data transmits in a real-time sequence. Otherwise, data is stored locally and transmits as soon as a Wi-Fi connection is reestablished.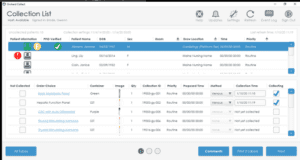 Interactive Collection List Assists in Proper Collection Procedures
The collection list displays patients, their locations, and collection priorities. Tube/container quantities for individual patients and for the complete collection list are available to help phlebotomists plan and organize their collection trays. Phlebotomists have their collection lists and container requirements at the bedside, including appropriate draw order and collection container images to assist with proper collection procedure. Ask-on-order-entry questions and patient-specific alerts can be set up, and reportable and non-reportable comment options are available.
Simple, Intuitive, & User-friendly Interface
Optional touchscreen technology and an intuitive, user-friendly interface make Orchard Collect easy to learn to use. The solution also includes an embedded user's guide for immediate answers to user questions. In addition, its small footprint and self-contained application allow for easy field deployment and updates. The Orchard Collect system can be configured as a stationary system or to move from room to room as a "workstation on wheels." Simultaneously improving patient safety and procedural accuracy, Orchard Collect helps organize and confirm accurate laboratory specimen collection in real time.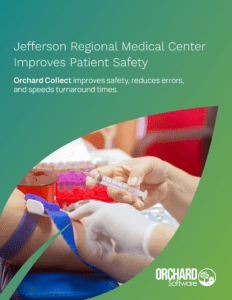 Download Orchard's Recent Case Study, Jefferson Regional Uses Orchard Collect PPID to Improve Safety, Reduce Errors, & Speed TAT
Successful implementation of Orchard Software's Positive Patient ID collection tool—Orchard® Collect—resulted in direct patient care improvements at Jefferson Regional by improving safety through elimination of in-patient specimen labeling errors, as well as achieving significant workflow and turnaround time enhancements. Review our case study to learn more about Orchard Collect in action at Jefferson Regional.
Orchard's Commitment
Orchard Software is committed to keeping you informed and being a trusted resource you can turn to for industry-related education. As always, we welcome your feedback. Follow us on Twitter at @OrchardSoftware, and feel free to respond to this post by emailing us at news@orchardsoft.com.
Reference
ECRI Institute. Special Report: Patient Identification Errors. 2016. https://www.ecri.org/Resources/HIT/Patient%20ID/Patient_Identification_Evidence_Based_Literature_final.pdf