In 1993, back when Beanie Babies were big, Orchard Software was founded. Orchard has since grown to be a leader in the laboratory information system (LIS) industry. For 30 years, Orchard has offered development, support, and service for our LIS products, guided by laboratorians across the country who helped make our products what they are today. At Orchard, we have strived to meet the needs of many different types of laboratories. Working with a diverse customer base has resulted in comprehensive, flexible, scalable LIS solutions with advanced configurability.
Continual Growth & Customer Focus
The first version of Orchard's LIS was Costello™. Seven years later, our flagship LIS was renamed Orchard® Harvest™ and our first web-based outreach module, Orchard® Outreach, was released. In 2004, we added an additional web-based outreach SQL-based solution, Orchard® Enterprise Lab™, followed by a fully integrated anatomic pathology system, Orchard® Enterprise Pathology™.
Since then, we have steadily grown, continuing to listen to our customers to  develop solutions that thousands of laboratories use to drive effective workflow and operations. Our products provide the broadest set of features and can handle a large variety of laboratory workflows and business situations. Since our inception, Orchard has developed hundreds of laboratory analyzer and host system interfaces and continually adds custom features into our applications.
Over the last decade, Orchard has developed the most comprehensive LIS products on the market, including clinical, outreach, pathology, point-of-care, and toxicology solutions plus a patient portal. Orchard also offers a cloud-hosted solution that helps customers improve their system security, increase reliability, simplify maintenance, and ultimately focus on lab operations. In response to industry demands and to support our customers' molecular testing needs, in 2021, Orchard® Molecular™ was released.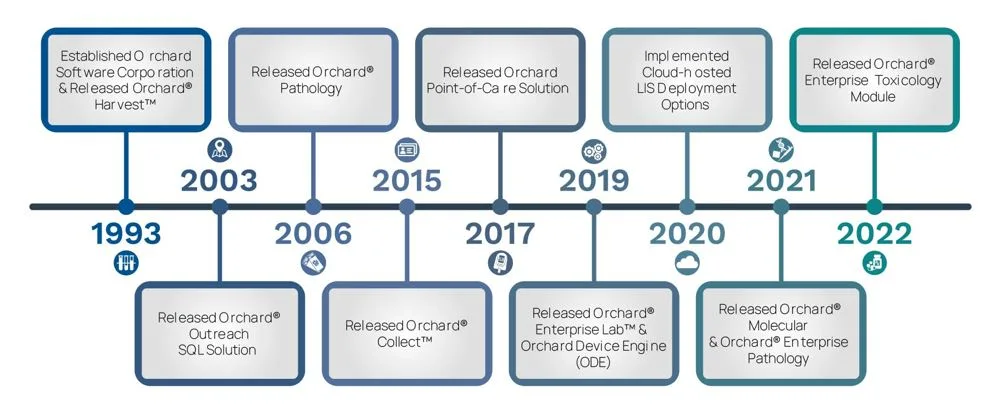 "Our lab started with Orchard's LIS in 2002. Orchard's contribution allows us to have everything at our fingertips. This has been invaluable to us and allowed us to keep growing. Partnering with Orchard Software has been the right decision all along."
Yvonne Herman, Laboratory Manager, Graves-Gilbert Clinic
Keeping Motivated, Engaged Employees
Another reason for Orchard's success is our focus on employees. We believe our employees are a valuable asset. Orchard has ranked well in the Top Workplaces list (The Indianapolis Star) for ten consecutive years. Our commitment to providing resources and benefits that support healthy, engaged employees has contributed to Orchard's continued growth and success.
"I've called Orchard home for nearly 20 years and feel like I have grown up here. I get to work with innovative, creative people—each of whom bring their own unique expertise to our products, company, and culture. The true joy of working for Orchard is genuinely loving going to work each day to see what we can think of next." 
Christine Henderson, Sr. Strategic Marketing Manager
Planning for the Future
Orchard's plan is to continue to grow alongside our customers, focused on the lab market and listening to feedback to drive future development plans. Next on our plate is the final phases of developing our enterprise analytics solution—Orchard® Insights™—to empower our customers to leverage the value of laboratory data and analytics.
Orchard Software delivers state-of-the-art diagnostic information systems, with coverage across the full spectrum of healthcare organizations. Working closely with our customers helps guide our business decisions by helping our team learn what laboratories need in a software solution. Orchard's plan is to continue to help our customers improve efficiency, reduce errors, and enhance integration. We are proud of what laboratorians achieve every day, and proud to partner with laboratories that are an invaluable part of our healthcare system.