Antibiotic resistance remains one of the most serious public health threats. The Centers for Disease Control and Prevention (CDC) estimates that each year in the U.S., more than 3 million people develop resistant bacterial infections resulting in 48,000 deaths.1
One of the main causes of antibiotic resistance is the use of antimicrobials in agriculture and veterinary medicine, which continually increases due to the demand for animal-based food.2 The resistance built up in livestock raised for food can be transferred to humans, adding to the already high incidence of antibiotic resistant bacteria due to antibiotic misuse.
What is Antimicrobial Stewardship?
Antimicrobial stewardship, also referred to as antibiotic stewardship, is the commitment to use antibiotics judiciously and appropriately to preserve their effectiveness and limit development of resistant strains.
Antimicrobial stewardship programs are common within human hospitals, and that structure has been appropriated to develop a framework for antimicrobial stewardship for companion animals and livestock in veterinary medicine.
Though behind human medicine in development, veterinary medicine is also focused on developing antimicrobial stewardship programs due to increasing worldwide resistance in human medicine and the possible contributions from antimicrobial use and resistance in animals.
7 Core Elements of a Successful Antimicrobial Stewardship Program
Responsible veterinary antimicrobial stewardship practices include actions that preserve the efficacy of antibiotics and still allow for effective animal care. As with human medicine, this includes only using antibiotics when absolutely necessary to manage illness in animals. In addition, vaccinations and disease prevention plans can help reduce the need for antibiotics.
The CDC outlines seven core elements for a hospital-based antibiotic stewardship program that veterinary medical centers are adopting as a guideline. These core elements of stewardship are leadership commitment, accountability, drug expertise, action, tracking, reporting, and education.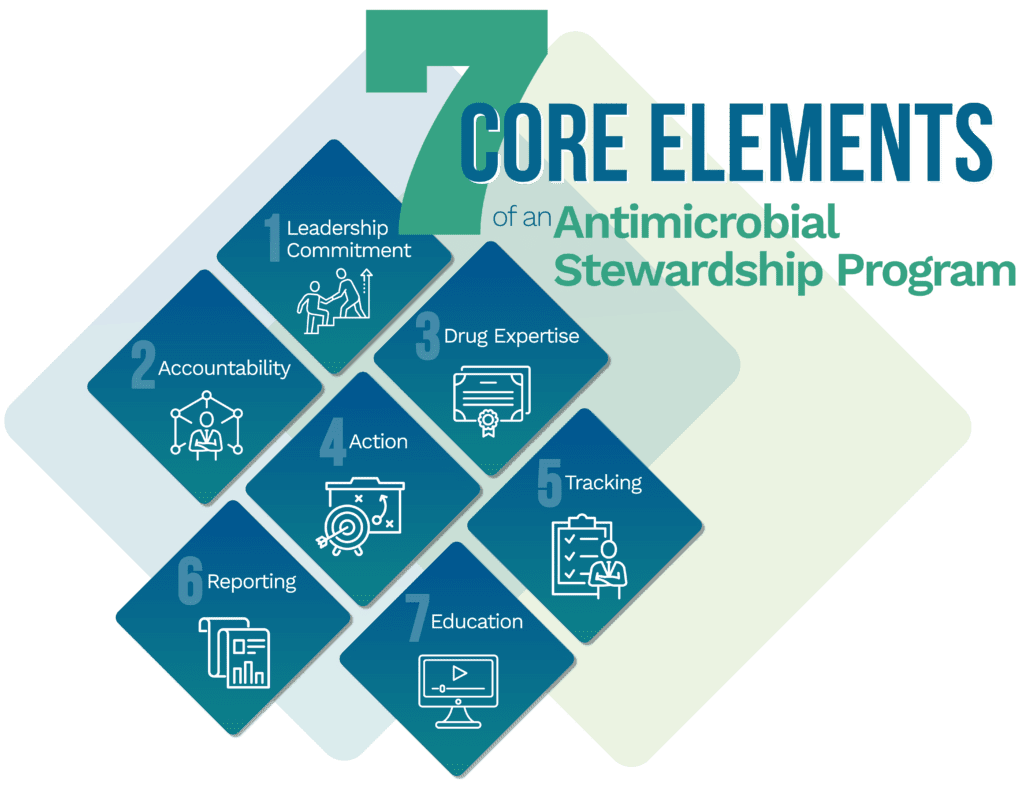 Leadership Commitment
As with any large project within a healthcare organization, leadership must show a united commitment to the endeavor. This support includes providing financial and human resources and publicly supporting the stewardship program.3
Accountability & Drug Expertise
Accountability and drug expertise require clinical leaders who will ensure program effectiveness and confirm improvements in antibiotic use. This may involve creating a committee with representatives from various specialties and departments. The committee is responsible for monitoring the program, identifying issues that need to be addressed, and finding solutions to program challenges.3
Action
The action portion of an antibiotic stewardship program entails implementing activities that are defined by the clinical leaders to improve antibiotic usage. The American Veterinary Medical Association (AVMA) and other professional organizations offer tools for veterinarians to use, including a checklist of antimicrobial stewardship activities.
Tracking & Reporting
As with any quality improvement program, tracking and reporting progress is a key element. An antimicrobial stewardship program requires monitoring antibiotic prescribing practices, susceptibility patterns, and resistant bacteria, with annual reports that communicate program results.3
Education
Lastly, the stewardship program includes educational programs for clinicians, staff, and students about antimicrobial resistance and appropriate recommendations.
How Orchard's LIMS Can Help Your Veterinary Lab
Orchard's highly flexible solutions offer tools that can expertly address the laboratory information management system (LIMS) needs of independent veterinary laboratories and university veterinary schools, helping improve laboratory workflow and connectivity and supporting antimicrobial stewardship efforts. Our LIMS software captures data in a searchable, integrated format to meet the connectivity and workflow needs of veterinary laboratories. Leverage the benefits of a clinical LIMS platform configured specifically for the nuances of veterinary medicine.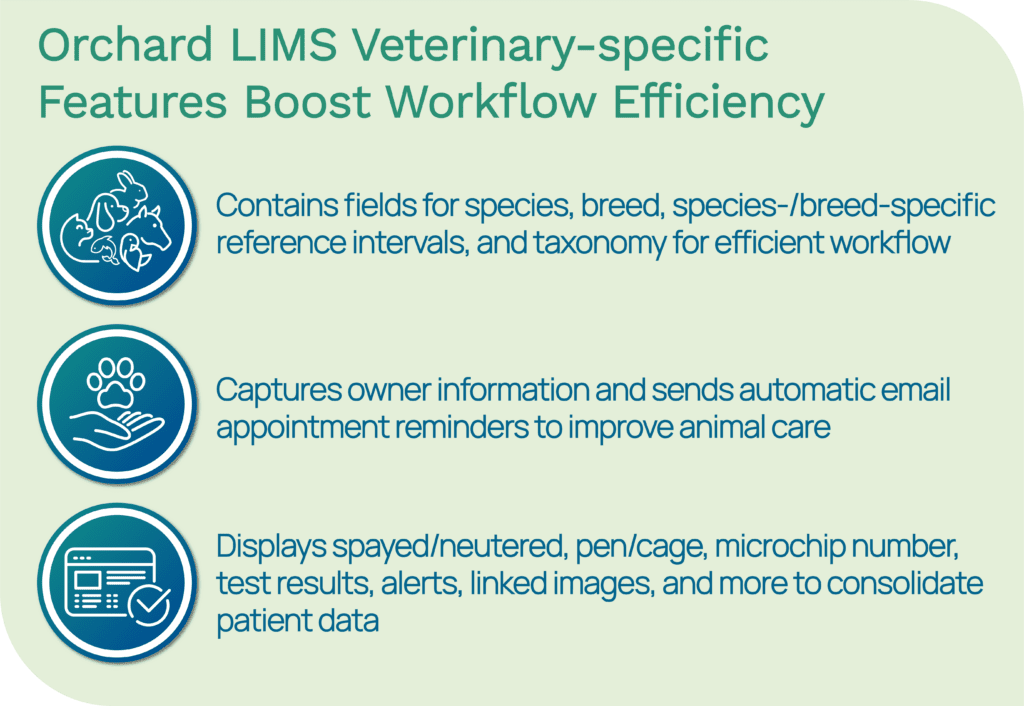 References
Centers for Disease Control and Prevention. National infection & death estimates for antimicrobial resistance. cdc.gov/drugresistance/national-estimates.html#:~:text=In%20the%20U.S.%2C%20more%20than,Resistance%20(AR)%20Threats%20Report. Updated December 13, 2021.
Lloyd DH, Page SW. Antimicrobial stewardship in veterinary medicine. ASM Journals. doi: https://doi.org/10.1128/microbiolspec.ARBA-0023-2017. Published 2017.
Feyes EE, et. al. Implementation of an antimicrobial stewardship program in a veterinary medical teaching institution. AVMA. https://doi.org/10.2460/javma.258.2.170. Published January 2021.