Pathologists are faced with mounting challenges, including staff shortages,  growing demand for their services, and continual cost and time pressures. This means that tools that make their jobs easier and more efficient are a necessity, such as speech recognition embedded in their laboratory information system (LIS).
Growth of Speech Recognition Software
Speech recognition software has been around for many years, and in the past was used as a standalone service to transcribe spoken word to digital text. However, speech recognition has evolved significantly to meet the unique needs of pathologists and other laboratory staff. It can now be a part of your LIS functionality, allowing you to navigate the software. Watch Orchard's video to see LIS-embedded speech recognition in action as part of Orchard® Enterprise Pathology™ and Orchard® Pathology.
Orchard-Dolbey Partnership Improves Pathology Lab Efficiency
To aid pathologists and laboratorians in addressing the myriad challenges they face, Orchard Software and Dolbey Fusion Narrate have partnered to allow front-end speech recognition and voice commands within the LIS. Dolbey's speech recognition solution, Fusion Narrate® powered by nVoq™ offers an efficient way to interact with Orchard's leading LIS solutions and modernize the pathology dictation process.
Efficiency Boost for Pathologists
Interfacing your speech recognition solution with your LIS speeds transcription and improves overall efficiency. This embedded functionality reduces the need for pathologists to continually move between the LIS and the microscope to type. They can record information in the LIS without the mouse and keyboard and dictate their cases from the microscope directly into the LIS pathology worksheet using a microphone or their mobile phone.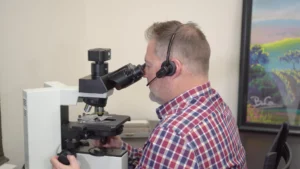 LIS-embedded Speech Recognition Benefits
With Orchard's LIS products and Fusion Narrate, the entire dictation process is streamlined from grossing to report creation. Users can build custom commands to order panels, review and issue cases, print cassettes, sign out cases, and more—using only their voice. Benefits of an Orchard LIS with embedded speech recognition include:
Direct dictation into the LIS that results in faster turnaround times
Accurate speech to text
Voice shortcuts and hands-free adjustments
Highly customizable interface
Ability to complete case work earlier every day
Compatibility with any microphone, including a mobile phone
Continuing to Innovate to Support Lab Customers
Orchard Software offers cloud-based LIS solutions for several specialties with a focus on efficiency, reducing errors, and improving patient care. As a partner, Dolbey complements Orchard Software's solutions by allowing dictation and voice navigation within the LIS using customizable voice commands.
Learn more about Orchard's speech recognition capabilities.
Learn more about Dolbey's integrated application.