Among LIS competitors such as Cerner, SCC Soft, Clinisys (formerly Sunquest), and Epic, Orchard Software took top place in 12 of 18 categories and number one overall in the 2023 Black Book Market Research User Survey. Black Book™ annually evaluates leading healthcare/medical software across 18 key performance indicators completely from the perspective of the client experience. Survey results are independent and unbiased from vendor influence with more than 1.3 million healthcare technology users invited to contribute.
Orchard Shines in Unbiased Customer Survey
With an overall score of 9.51, Orchard Software stood out as the best overall LIS among all groups (hospital and health systems, physician practices and groups, reference labs, and government agencies and public health). Scores greater than 8.7 indicate a score higher than 90% of vendors. Scores at this level imply that rankings express "overwhelming satisfaction" and a "highly recommended vendor."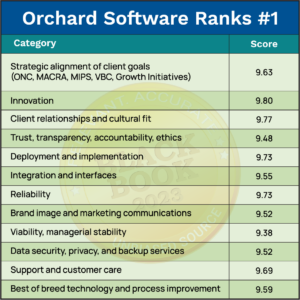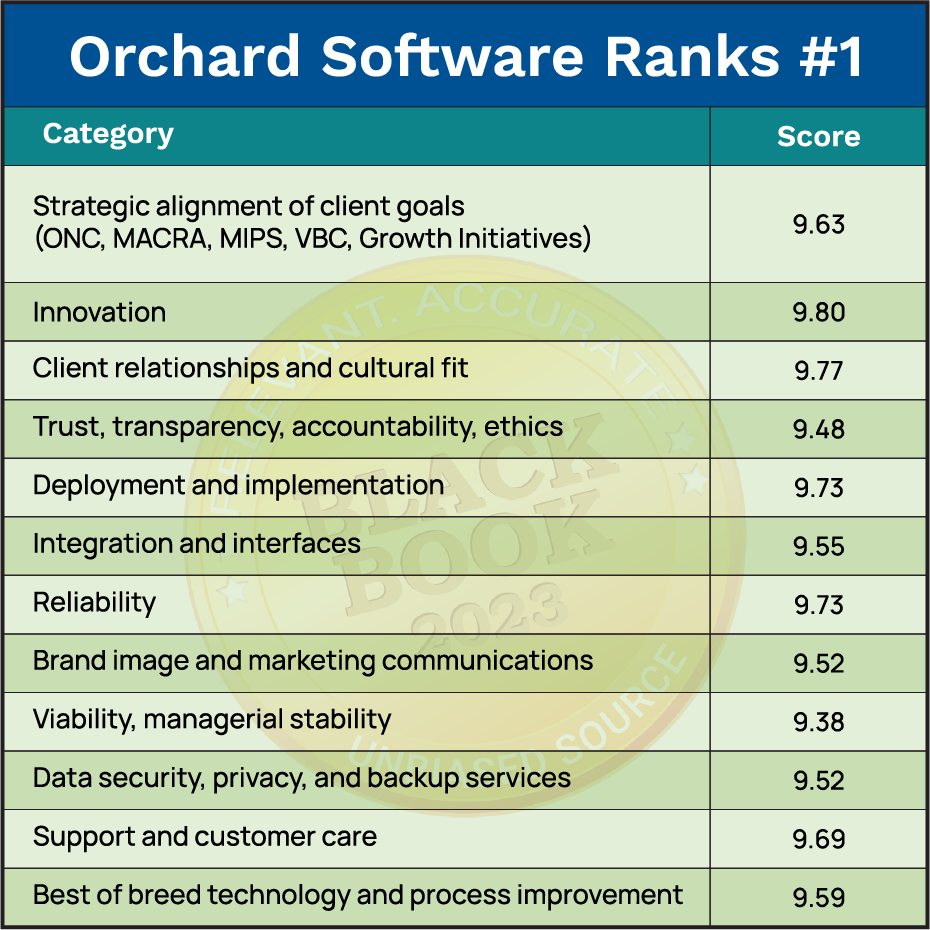 Survey Overview
The Q1 2023 through Q3 2023, Black Book™ HIM Management Software and Outsourcing survey for hospitals included insights from 2,605 users from 1,457 laboratories. Black Book collects ballot results on 18 performance areas of operational excellence to rank vendors by electronic medical and health record product lines. The gathered data are subjected to an internal and external audit to verify completeness and accuracy. The 18 criteria on operational excellence are subdivided by the client's industry, market size, geography, software and technology niche, and functions outsourced, and unbiased scores are reported accordingly.
About Black Book
Black Book Rankings, a division of Black Book Market Research LLC, provides healthcare IT users, media, investors, analysts, quality minded vendors, and prospective software system buyers, pharmaceutical and equipment manufacturers, group purchasing organizations, and other interested sectors of the clinical and financial technology industry with comprehensive comparison data of the industry's top respected and competitively performing technology vendors. The largest user opinion poll of its kind in healthcare IT, Black Book™ collects over a half million viewpoints on information technology and outsourced services vendor performance annually. Black Book was founded in 2003 and is internationally recognized for over 15 years of customer satisfaction polling, particularly in technology, analytics, services, outsourcing, and offshoring industries.