We chatted with Strategic Marketing Manager, Sam Ven, about Orchard's YouTube channel.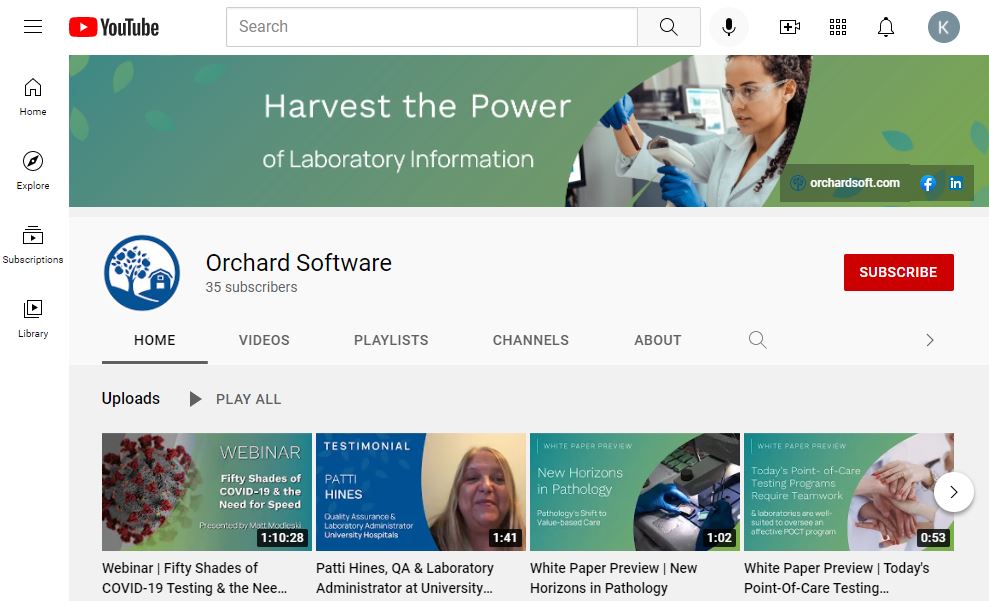 What do you hope to convey on Orchard's new YouTube channel? Tell us about what we'll find on the channel.
We want Orchard Software's YouTube channel to be a source for educational material and information about relevant industry topics.
Why did you decide to begin using YouTube as a tool for reaching Orchard's audience? What do you see as the primary benefits of this platform? 
After doing some research on laboratory information systems on YouTube, we found that there isn't much content for that sector. YouTube is the number 2 ranked internet search engine behind Google. The website receives over 2 billion users per month and over 1 billion hours of video is consumed per day. YouTube is also owned by Google, allowing the search giant to control the top two search engines in the world and over 86 percent of the market share. YouTube is unique in that it is viewed as a hybrid platform: it's a social media outlet, a library for educational material, an entertainment resource, and so much more. The way people consume information has also shifted to be more video-based. With the success of many on-demand video streaming services, we feel that having a YouTube channel will increase our reach and brand awareness across the Google ecosystem while adapting to the current trends in content utilization.
What kind of content will you be uploading to the channel in the near future? 
Our channel will host content on educational pieces such as explainer videos and webinars. We will also have sales tools and informational videos on the various solutions that Orchard provides. Other content options include videos highlighting Orchard as a company, not just our solutions. We also want to showcase Orchard Software's culture.
Anything else you want readers to know about the channel?
We are very excited about this channel and its potential. We encourage (and need) the Orchard family to visit our channel at the link below and subscribe to it to help it grow and become effective. We appreciate your support and welcome any suggestions you have for content. Just add a comment on the channel!