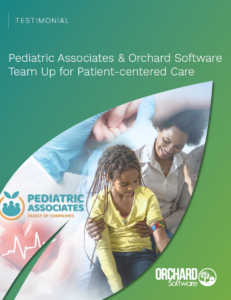 Orchard Software is proud to partner with Pediatric Associates to provide laboratory software that supports their mission to provide loving care to their pediatric patients year-round. Pediatric Associates uses Orchard® Point-of-Care™ and Orchard® Outreach™ to meet their unique needs.
Benefits of Orchard Products
Here are some of the benefits Orchard's solutions provide for Pediatric Associates:
Cloud-based deployment eliminates the need for on-premises servers and maintenance.
With more than 250 locations, they need the flexibility and configurability that Orchard's products offer.
Being able to preassign and easily track their POCT QC across locations increases their efficiency.
Robust interfacing provides testing routing, standardized processes, and helps meet state health department reporting requirements.
Sample tracking helps ensure critical values are reported to clinicians in a timely manner.
"'Loving Care 365 Days a Year' is our motto, which we couldn't do without partners like Orchard Software who support our vision, our patients, our clinicians, and our staff. We appreciate what Orchard does to help us achieve our mission for our patients and parents and all the young kids across the country that we care for."
–        Monique Hayden, MT(ASCP), Director of Diagnostic Services
Access the full customer testimonial here.
More on Orchard Point-of-Care & Outreach
Orchard® Point-of-Care™ enables POC coordinators to track patient testing, devices, operator certifications, and QC from a central location to help ensure quality testing and promote patient safety.
Orchard® Outreach is an integration solution that provides EHR connectivity, simplifies order management, and consolidates result delivery to efficiently support labs providing outreach services.