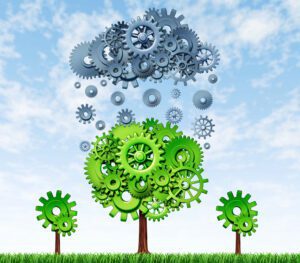 Orchard Software understands the unique challenges laboratories and healthcare organizations face surrounding patient security and confidentiality, system reliability, and conscientious spending. To address these challenges, some laboratories choose to host their LISs in the "cloud." Like many software companies, Orchard works diligently to make our software available in a hosted environment, and we wanted to feature the cross-departmental team that has made hosted systems possible.
It Takes a Village
One of the most important aspects of delivering an experience is that we have a multi-disciplined group. From sales to service, our solutions group strives to deliver an elevated experience for our clients that goes beyond delivery and support of a software package. No single part of the company can achieve that goal; everyone involved provides input and time in order to create this experience. While a number of others have contributed, the key Orchard team members include Tony Rowe, Seth Bosworth, Beth Eder, Greg Lyons, Travis Easter, Shawn Russell, Jake Eickhoff, Leigh Boje, Claire Sample, Sarah Weil, Amanda Malek, Josh Impson, and Melissa Densborn.
This group coordinates Orchard's efforts to deliver our products in a safe and stable cloud environment, into which clients can place their data and trust.
Allowing the Lab to Focus on the Lab
Orchard's mission is to improve patient care, so every moment lab staff are working to manage our software instead of performing tasks related to the lab or its workflows, they are not focused on their patients. Providing this service enables our clients to focus on what matters most to their business and, most importantly, delivering quality, timely patient care.
The Future of Cloud Services
We have offered hosted systems for some time, focusing first on new clients. This allowed us to lay a foundation and create a model to follow to bring our current clients into the cloud, and we are now encouraging more of our clients to consider a hosted solution. As we have always done at Orchard, we continue to work with our clients to learn more about how they really use our software. The more we learn, the better we are able to provide cloud services to meet clients' needs faster and more efficiently.
The future of hosted systems is bright thanks to the hard work from Orchard's Cloud Services team!
Simplify the Management and Maintenance of Your Orchard Laboratory Information System
To learn more about Orchard's various finance and deployment options, contact our sales team at (800) 856-1948 or sales@orchardsoft.com.