Always looking for valuable resources to share with laboratorians, Orchard Software has been a proud sponsor of the point-of-care (POC) webinar series hosted by Whitehat Communications. Recently, the award-winning team sat down with Orchard to share how it got into the webinar industry, what motivates it as an industry partner, and where the popular webinar management company is headed in 2020 and beyond.
Stumbling into Webinar Success
After selling his video production company in 2005, Rick Import, President of Whitehat Communications, quickly found himself collaborating with other companies on strategies to strengthen engagement and communication with healthcare professionals in the United States. During this time, Import realized point-of-care coordinators and other clinical laboratorians find value in the webinar format for continuing education (CE) opportunities.
​
The 2008 U.S. recession hit the regional point-of-care coordinator groups in a challenging way. Finding extra funding for CE opportunities became burdensome for facilities and the staff that would benefit. That's when a light bulb went off for Import and his old friend and colleague.
​"Steve Valorz, someone who was instrumental in establishing the regional point-of-care coordinator groups, understood the importance of these continuing education opportunities. That's when he suggested funding the meetings with relevant vendor sponsorships," says Import. "After becoming an approved P.A.C.E.® provider, Whitehat Communications went live in 2009 and we've never looked back."
Whitehat Communications: A Family Business
Because of the success of the interactive point-of-care webinar series, the demand for educational webinars has increased, expanding Whitehat's reach with national corporate sponsorships and other company services. Today, the Whitehat team's day-to-day operations are handled by Import and two of his children, Peter and Susannah.
​
"Getting to work alongside my children every day is very rewarding," says Import. "Both Peter and Susannah play an integral part in Whitehat's growth."
Whitehat's Recipe for Award-winning Success
What makes the Whitehat Communications business model work isn't just free P.A.C.E.® credits; it is the combination of strong vendor partnerships, a large network of industry experts passionate about discussing laboratory medicine and POCT topics, and a team that respects the role laboratorians play in today's healthcare.

When asked what motivates the Whitehat team to continue to raise the bar for educational opportunities, Import pointed to the culture that point-of-care coordinators have created amongst themselves. "One thing for sure is they're always ready to learn and teach," says Import.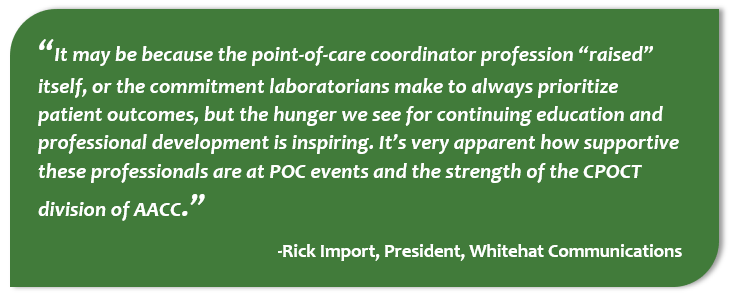 Due to Whitehat's long-standing commitment to professional development in the point-of-care community, Import accepted the 2019 Outstanding Contributions to POCT award by AACC's Critical and Point-of-Care Testing Division.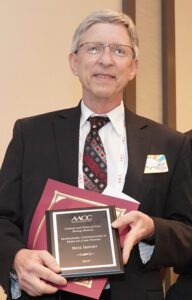 Whitehat Expectations in 2020 & Beyond
"Year over year, Whitehat continues to see growth through referrals from both webinar attendees and corporate sponsors, proving we're at least doing something right," says Import. "We're currently working on expanding our services into new areas."
As Whitehat continues to expand its company services into new areas, both webinar attendees and vendor sponsors can rest assured the level of service they've come to expect the past 11 years will remain the same.
Don't Miss Out! Subscribe to our Webinar Series Email List
Orchard Software is proud to be a sponsor of Whitehat Communications' 2020 POC Webinar series. This year, Whitehat has partnered with industry experts focused on topics of interest to the laboratory and POCT industry. P.A.C.E.® credits will be available for each of the 24 webinars scheduled for this year. To learn more about the POC webinar series, visit the Whitehat Communications website.
Orchard's Commitment
Orchard Software is committed to keeping you informed and being a trusted resource you can turn to for industry-related education. As always, we welcome your feedback. Follow us on Twitter at @OrchardSoftware, and feel free to respond to this post by emailing us at news@orchardsoft.com.