Public Health Laboratories (PHL) are an integral part of keeping our population healthy and safe. They have contributed to improvements in population health for decades. See Figure 1. In an effort to continue improving, the public health system is embracing an updated model called Public Health 3.0 (PH3.0) that requires collaboration and connectivity across healthcare entities.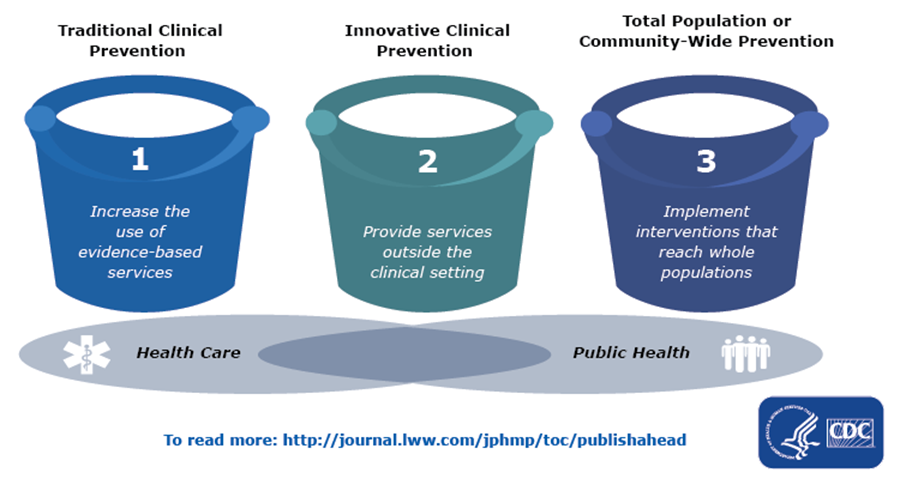 Public Health's Main Mission
Public health professionals work to protect and improve the health of individuals, communities, and larger populations. A major objective of public health is to promote healthcare equity, quality, and accessibility.
The Evolution of Public Health
Organized public health efforts began in the U.S. in the mid-nineteenth century to address issues that resulted from urbanization, industrialization, and immigration. At the time, efforts focused on the social and environmental causes and consequences of disease. Public health initiatives also focused on improving food and water safety, mitigating infectious disease spread, and developing vaccines and antibiotics. Laboratory science and epidemiology capabilities were greatly expanded.
In the twentieth century, public health focus switched to treating cancers and chronic illnesses. In 1945, the American Public Health Association published the "Basic Six" resolutions for public health agencies:
Collect data on vital statistics
Control communicable diseases
Ensure environmental sanitation
Offer maternal, infant, and child health services
Provide education to promote healthy behaviors
Provide diagnostic laboratory services
In 1988, the Institute of Medicine (now called the National Academy of Medicine) published "The Future of Public Health," which encouraged population-based strategies for improving community health. Since then, public health has continued to shift to address a vast array of public health issues. See Figure 2.
What is Public Health 3.0?
Currently, the U.S. healthcare system is transforming to Public Health 3.0 (PH3.0) motivated by long-standing health disparities and social inequities. The new model builds upon past success with a greater focus on social determinants of health (SDOH). SDOH are the conditions in which people are born, live, work, and age. These factors strongly influence a person's overall health and well-being.
PH3.0 includes recommendations within five areas to improve our public health system:
Strong leadership and workforce
Strategic partnerships
Flexible and sustainable funding
Timely and locally relevant data, metrics, and analytics
Enhanced foundational infrastructure
Collaboration and connectivity across the healthcare system are foundational to effectively implement PH3.0. This effort includes PHLs as part of an interoperable system with connected information systems securely sharing patient data. For more information, see the CDC's PH3.0 page.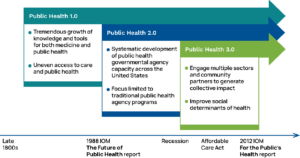 What Does Public Health 3.0 Mean for My Lab?
PHLs are at the heart of improving the health of a population. Local and state PHLs engage with the entire healthcare community and are involved in a hierarchy of interconnected laboratories that exchange information, provide laboratory services, help prevent disease, and mitigate public health threats.
Many PHLs are already working to develop PH3.0 initiatives and foster improvements to their community's health. Today's PHLs face an increasing need for automation and electronic connectivity that enables real-time response to public health concerns. Moving to PH3.0 requires dedication, creativity, and thinking of public health in a different light. Looking at SDoH that influence wellness yet are not within the scope of traditional healthcare is a new perspective.
A comprehensive, integrated LIMS can help support the necessary improvements and goals of PH3.0. Not only does a LIMS enable sharing of public health data among providers and agencies, it also is a vital part of the information systems that enable the analysis and sharing of patient data needed for interventions that address SDoH disparities.
Electronic Laboratory Reporting
Public health Electronic Laboratory Reporting (ELR) is the electronic transmission of laboratory results from laboratories to state and local public health departments, healthcare systems, and the Centers for Disease Control and Prevention (CDC). ELR interfacing links laboratories to public health entities and automates the secure transmission of laboratory data for reportable conditions.
ELR contributes to data interoperability between healthcare and public health facilities. HL7 interfacing allows laboratories to participate in ELR, creating the connection to report results to the state's surveillance system that allows timely monitoring of critical data. Increased data interoperability and connectivity is part of the move to value-based care and improvements in patient care and organizational efficiency.
Laboratory Response Network
The Laboratory Response Network for Biological Threat Preparedness and Response (LRN-B) is a PHL hierarchy that allows for the rapid detection of biothreats and infectious diseases. The LRN-B applies a standardized approach and tiered construct—with sentinel clinical laboratories serving at the foundation to quickly recognize and rule out or refer potential biothreat agents to the Laboratory Response Network Reference Laboratories. The LRN-B is a crucial part of rapidly addressing a biohazard threat or infectious disease.
How Orchard Software Supports PHLs
Orchard Software's products provide the tool PHLs need to meet the integration goals set by the CDC and state and county health departments. Orchard's team of integration experts has extensive experience developing and implementing HL7 interfaces to a variety of third-party information systems including numerous CDC programs and State Health Information Exchange programs such as Electronic Laboratory Reporting (ELR) and Lab Results Interface (LRI) certified interfaces in compliance with Promoting Interoperability (previously Meaningful Use) initiatives.
Orchard's integration expertise allows PHLs to focus on their core mission to protect and improve the health of individuals, communities, and populations.
Reference
DeSalvo KB, et. al. Public health 3.0: A Call to Action for Public Health to Meet the Challenges of the 21st Century. Prev Chronic Dis. 2017;14:170017. doi: http://dx.doi.org/10.5888/pcd14.170017