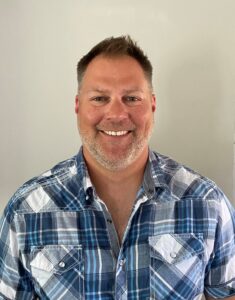 In each of our quarterly newsletters, we select an employee who's doing exciting work at Orchard to showcase in our recurring Employee Spotlight feature. This month's spotlight is on Scott Cone, our Pathology Solution Specialist. Scott, who lives in southern Indiana, joined Orchard's Product Management team in May 2021. Check out our interview below to learn more about Scott's professional and personal interests!
What type of work did you do before joining our company?
I was an operational leader for several histopathology labs, in both hospital and academic settings, as well as large reference labs. I also spent five years in the U.S. Navy as a medical corpsman for both the Navy and Marine Corps.
What excites you about working at Orchard?
I like being a part of the technological growth that will help the field of laboratory medicine advance, which should result in better patient outcomes overall.
What do you like to do when you're not at the office?
I like spending time outdoors, working with my hands, and seeing my children grow up. I live in rural southern Indiana and spend a great deal of time working on my land. I'm currently learning a great deal about growing fruits and vegetables.
Motto or personal mantra?
Separate fact from fiction before speaking.
Where's your favorite place in the world?
San Diego, CA. I lived there while serving in the U.S. Navy and spent summers there as a child.
What's the last book you read?
Change the Culture, Change the Game (2012) by Roger Connors and Tom Smith
Favorite sport?
Snowboarding.
What's your secret talent that no one knows about?
I'm a pretty good woodworker.
What is on your bucket list?
Skiing in the Alps.
What music is on your phone?
Mostly '80s and '90s music; a lot of grunge.