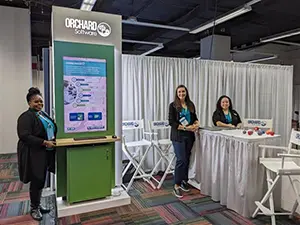 Each year, healthcare professionals come together for the PAINWeek Conference, the national conference on pain with the most expansive curriculum. Orchard Software exhibited at this year's event, which occurred on September 5-8 at The Cosmopolitan in Las Vegas, Nevada, and we enjoyed a steady stream of visitors at our booth for the entirety of the show. Amber Sprayberry, one of our Toxicology demo specialists, attended this year's event. "The best part of this show was its size. It was just the right size that nearly every attendee visited every booth. This year's conference was very community-driven and there were multiple show floor incentives that drove a lot of people to the booth," Sprayberry said. Orchard's specialists were pleased to visit with several of our clients at the conference, as well as network with potential new Toxicology clients. The PAINWeek Conference remains a preferred resource of many frontline practitioners.
Orchard also returned to the College of American Pathologists' (CAP) Meeting this year, which was held at the Hyatt Regency in Chicago, Illinois. The attendance for this Pathology-specific show was higher than it had been in the last couple years, and Orchard's representatives were glad to see many familiar faces that we had not seen since before the start of the COVID-19 pandemic. During this year's event, which had a high emphasis on digital imaging, we reunited with many of our Pathology clients and once again enjoyed a consistent stream of visitors at our trade show booth. We look forward to attending the CAP24 Meeting on October 19-22 in Las Vegas.
For the remainder of 2023, we look forward to attending both the American College of Veterinary Pathologists (ACVP) Annual Meeting on October 28-30 in Chicago, Illinois, and the Association for Molecular Pathology (AMP) Annual Meeting & Expo on November 15-18 in Salt Lake City, Utah.