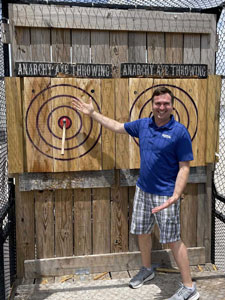 On June 16th, Orchard employees busted out their flip-flops and headed into the office for our Summer Kick-off event. Highlights of the kick-off included inflatable games and, most notably, an axe throwing contest. A Kona Ice truck parked in our lot to provide some cool treats for the day. We also screened the classic movie musical Grease (1978) in our great room, so folks could take a break from the heat.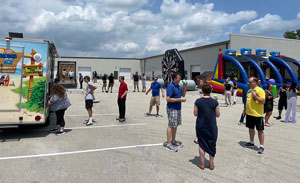 Orchard's workplace manager, Paige Shipley, organized the event. "Everyone seemed to have a great time, despite the heat! With so many people working remotely, the Summer Kick-off was a great opportunity to catch up with old friends and meet some new team members, with the added fun of Kona Ice and a giant dart board. I also highly recommend axe throwing as a team-building activity," Shipley said.
The axe throwing activity proved to be a crowd favorite, with many Orchard employees choosing to "throw caution to the wind" and give it a try! Team-building events like the Summer Kick-off represent a positive opportunity for hybrid employees to get out of their offices and socialize with fellow colleagues. Orchard looks forward to safely holding seasonal events like this one in the future.