Are you excited about laboratory analytics and wish you had a powerful tool to manage and analyze your lab's data? If so, your lab might be a good candidate for our Orchard® Insights™ early adopter program. You can have a voice in what you would like to see in the future of laboratory analytics. You can be part of shaping the tool so that it grows into exactly what the laboratory industry needs!
Orchard Insights "Now & Later"
Orchard Software recently announced the release of Orchard Insights, our new BI and analytics tool, a standalone SaaS solution built with MZ Azure Analytics and Power BI. Insights gives labs the advantage of an analytic perspective that can help address the industry staffing shortage and improve overall laboratory productivity and efficiency. Laboratories can use their data to track internal key performance indicators and test utilization as part of a larger laboratory stewardship program that guides business decisions and increases the lab's contribution to patient care improvements.
The future of Insights will include benchmarking and add the power of AI. Over time, Orchard Insights will leverage modern generative and predictive AI engines to reveal operational and clinical trends. This will further empower organizations to streamline processes and realize new efficiencies.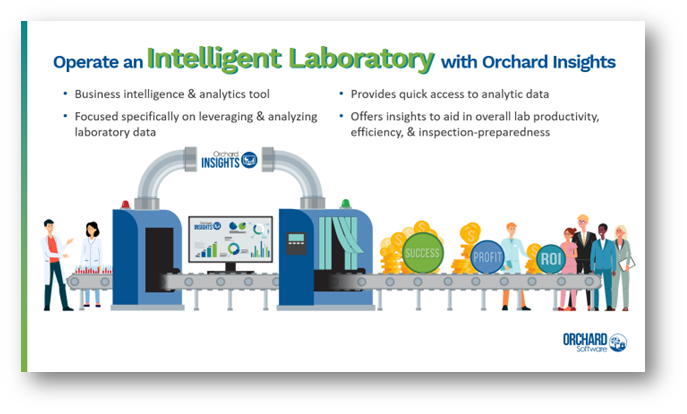 Reap the Benefits of Our Innovative Early Adopter Program!
You can be involved in shaping the future of Orchard Insights. We are offering a unique opportunity for our customers to join our exclusive early adopter program. This group will have the advantage of having their feedback and suggestions guide the strategic direction of Insights and its future dashboards.
The group will have quarterly strategic advisory meetings to share feedback and best practices. In addition, early adopters will receive a discount on the annual Orchard Insights subscription and setup fees and can become design reviewers for our upcoming benchmarking solution. Contact your Orchard Account Executive at (800) 856-1948 for more details if you would like to sign-up.