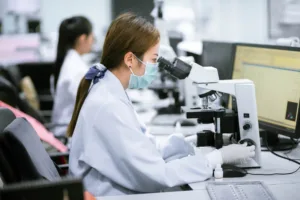 Orchard Enterprise Pathology (OEP), part of Orchard Software's enterprise suite of LIS products, is a comprehensive solution that supports pathology laboratories by providing:
automated workflows
electronic worksheets
device and system integration
quality assurance support
As development continues for our enterprise products and we strive to meet our customers' needs, new features and functionality are continually being added. Our recent release includes features that are beneficial for dermatology and cytology laboratories.
Workflow Tools that Boost Lab Efficiency & Effectiveness
Modern pathology labs require efficient, streamlined workflows. Tools that make the pathologist and laboratorian jobs easier are greatly valued. As such, OEP was designed with these deliverables in mind to automate and standardize processes so that safety and quality are built into the system and workflow.
Drive Quality Assurance & Patient Safety Initiatives
Accuracy, timeliness, and completeness of results are required elements in pathology laboratories, making these essential areas for monitoring within a quality assurance (QA) program. The concept of Continuous Quality Improvement (CQI) stresses that laboratories learn from their past QA monitors and build upon those results so that the laboratory is always making changes that improve outcomes.
OEP contains numerous tools that are focused on allowing pathology labs to track and meet their QA requirements. These tools include:
embedded audit logs
data mining browsers
specimen tracking options
barcoded case materials
screener/pathologist escalation​
high-risk and random QC algorithm ​
correlations/diagnostic concordance rate
For Cytology laboratories, administrative reports can be created specific to QA programs. The solution supports screener to Pathologist escalation to speed confirmation of findings. OEP includes the ability to automate identification of high-risk and random QC and support required correlations (e.g., surgical to cytology, cytology to HPV, primary screen to path review, etc.). System Administrators can configure Correlation Result Matrix settings to allow the system to automatically enter correlation data when two users enter Interpretation results into the same GYN Cytology Case.
Expedite Reporting & Turnaround Time with Coded Results
In addition to patient safety and result accuracy, rapid reporting is always a priority. For Cytology and Dermatology laboratories, OEP's inherent coded results and text shortcut feature allows users to automate data management and improve reporting time and accuracy. System Administrators create and manage the coded results table, allowing each laboratory to define the codes and associated result text to appear on patient reports.
Selecting a code is much faster and easier than typing a full text result, plus data entry errors are eliminated and results are available and consistent for data mining. Result evaluation rule conditions automatically evaluate the codes a user selects and disregard additional free form text typed alongside the text.
Satisfy Diagnostic Guidelines for Women's Health
For Cytology laboratories, rules and data mining tools within OEP can help your laboratory meet American Cancer Society recommendations for cervical cancer screening (i.e., HPV and Pap smear). Order entry rules can be used to add HPV testing according to age-based recommendations. Form Letters and data mining tools support automation of routine gynecological testing and the solution provides consolidated reporting for Women's Health showing clinical, cytology, and pathology results together.
Enterprise-level solution For All Types of Pathology Laboratories
OEP helps pathology labs meet quality assurance and patient safety goals and report out fast, accurate results. This enterprise-level solution allows pathology laboratories to function efficiently, safely, and profitably—positioning your organization for growth and success.
Visit the Solutions page on our website to learn more about Orchard Enterprise Pathology.