Executive Summary
As one of the options to deploy Orchard® Harvest™, Amazon Web Services (AWS) is being used to move customers to a cloud-based solution. Orchard Software has multiple hosting options available for its cloud services and is proud to work with AWS as one of them. AWS is the world's most comprehensive and broadly adopted cloud platform, designed to be the most flexible and secure cloud computing environment available. Data centers are globally located and backed by extensive cloud security tools. AWS supports a multitude of security standards and compliance certifications, as well as data encryption capabilities that can support Orchard Harvest's customers. ​
Northwest Alabama Moves Orchard Harvest to the Cloud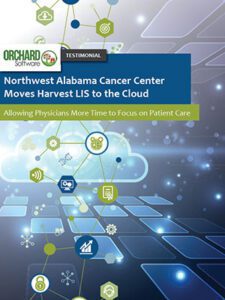 Orchard Software's longtime client, Northwest Alabama Cancer Center (NWACC), has transitioned to Orchard® Cloud Services using AWS. Their cloud-hosted laboratory information system reduces the burden on laboratory staff for IT-related tasks, provides enhanced security and reliability, and reduces fixed costs for their organization. Prior to moving to a cloud-based LIS, without a dedicated IT employee, lab-related IT duties fell to the laboratory scientists, who had limited IT training and admittedly prefer their laboratory tasks over IT duties. Having their system's security, disaster recovery, and maintenance handled by Orchard Cloud Services frees the laboratory staff to focus on their overarching goal of quality and compassionate patient care. Kristy McCabe, Laboratory Manager at NWACC, says, "In my experience, when working with Orchard, we know we are in good hands. Less IT headaches are a welcome advantage of moving our LIS to Orchard Cloud Services." The laboratorians at NWACC appreciate Orchard Harvest's user-friendly, intuitive solution and want to keep their system running as efficiently, safely, and securely as possible to maintain patient confidentiality, comply with HIPAA regulations, secure their data, and optimize system reliability. With these goals in mind, NWACC is a great fit for a cloud-based LIS.
Read the case study
Read the press release
Orchard Understands Laboratory IT
Pairing 25-plus years of laboratory IT expertise with modern cloud technology and an understanding of the importance of protecting patient data, Orchard's cloud services provide a flexible, cloud-based laboratory information system deployment to help address the specific challenges that laboratory IT faces.
Orchard Cloud Services
Improve system security and reliability (backed by 99.9% uptime guarantee)
Level laboratory spending
Help laboratories meet HIPAA requirements
Leverage modern tools to streamline installations, maintenance, and upgrades
Provide a prescribed disaster recovery plan that can help achieve business continuity goals
​Orchard Cloud Services ensure that information systems are accessible and secure, allowing organizations to focus on their core mission—providing high quality care to the populations they serve. For more information, visit www.orchardsoft.com or call (800) 856-1948.