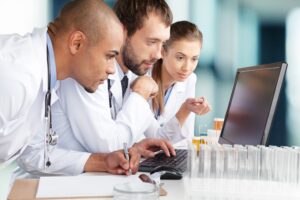 Today's pressures on laboratories leave minimal time for training. To ease the burden and offer a virtual learning opportunity, Orchard offers end user training via our eLearning library to help your team expand their knowledge of Orchard system functionality. As a supplement to our instructor-led training that is focused on laboratory administrators and advanced users, our new Orchard eLearning library is geared toward general end users of our systems, especially key operators that act as department leads, section supervisors, and trainers.
Check out our list of updated courses in Orchard's end-user eLearning training. We add and update courses each quarter, so there's always something new!
All Products
Importing ICD & NCD Codes
Orchard Harvest/Orchard Pathology
Introduction to ACOs
Browse Reruns
User Interface
Micro Worksheet – Working Up Cultures
Orchard Enterprise Solutions
Orchard Competency Module
The User Interface & Navigation
View Patient Results
Administrative Reports
Administrative Logs
Data Browsers
Work in Progress
Certifications
Ordering, Resulting, and Approving QC
For more information on Orchard eLearning, reach out using the form on our Contact Us page, or call your Orchard Account Manager at (800) 856-1948.