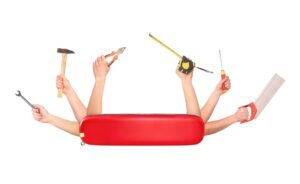 A small but mighty group of three, Sean Millard, Micah French, and Merry Ricketts comprise the Workplace Team that has numerous areas of responsibility and handles many different tasks. The Workplace Team has been together for three years, with Sean and Merry being with Orchard for over seven years. The group is integral to supporting Orchard's mission by ensuring Orchard's team members have a great, safe environment, and the tools needed to do their jobs, as well as getting items needed for client installations delivered on time.
The "Swiss Army Knife" of Orchard
No matter the task or request, the Workplace Team handles it quickly and efficiently and with a can-do attitude. They are like a small family within the Orchard family. When anyone needs an extra set of hands, the Workplace Team is usually the first to jump in and help out.
The scope of the team's work is truly impressive! It also requires a number of different skills because of the variety of roles they fill. Their primary functions include:
Cleaning and sanitation, which has increased greatly due to the pandemic
Setting up areas for meetings and/or meals
Facilitating special company-wide events, including quarterly meals, holiday meals and various treats, summer events, and the annual corporate fall party
Managing Orchard's relationship with Special Olympics Indiana, organizing our participation in the annual golf outing, Plane Pull Challenge, and bowling events
Maintaining and cleaning company-owned vehicles
Performing small equipment and light building maintenance
Purchasing supplies and inventory management for both employees and client installations
Handling shipping and receiving for all types of items, including client training materials, client hardware, installation items, and general mail
Supporting building safety and compliance, especially relating to AEDs, first-aid kits, PPE, fire extinguishers, and shredding and recycling bins
Rising to Meet the Pandemic Challenge
As if their regular list of tasks wasn't enough, during the pandemic, the Workplace Team has gone above and beyond to help out. The team has jumped in where you might expect, like keeping careful watch over the building, especially in places where employees are not currently working. But they have also acted as the on-site hands for tasks remote employees need help with while they work from home. The Workplace Team has even taken over watering plants for unexpectedly remote-based employees.
Not unlike everyone else the last several months, the Workplace Team has had to work continuously with vendors to find new sources to get needed products, such as wipes, disinfectants, and sanitizer. In the early days of the pandemic, they were also an integral part of a significant office improvement project to replace carpet in the largest suites of the building. Keeping the cubicles and everything else clean during that time was challenging, especially as there were so many unknown variables about COVID-19 at the time.
Keeping Things Safe Until We Return
Because the team has learned over the years to be flexible and cope with change, it was easier to navigate the changes required by the pandemic. They have a sense of pride in being able to do their part to provide the Orchard family a safe environment. When asked about anything unexpected they've learned, they said that the building is not the same without everyone there. It is even a bit creepy sometimes–like something out of The Twilight Zone. For that and many other reasons, the Workplace Team is definitely looking forward to seeing everyone return to the office. Until then, the entire Orchard family is grateful that they will keep things up and running, ready for a safe return.
Tribute to Merry Ricketts
Not too long after this article was written, our beloved co-worker, Merry, passed away unexpectedly. Merry was a bright light at Orchard Software, with a smile for everyone. She shared her warm, caring spirit with us all. Merry was a cherished friend and co-worker who is dearly missed.