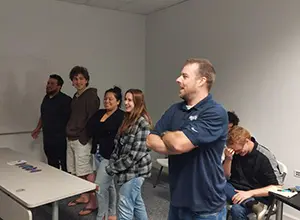 In each of our quarterly newsletters, we select an employee or team doing exciting work at Orchard to showcase in our recurring Spotlight feature. This quarter, we sat down with Andrew Freeland, our Employee Readiness Coordinator, to discuss the goals and achievements of our Technical Support team.
What is important to know about the group?
Meet the fantastic folks at Orchard Software's Technical Support team! We're a bunch of pros, some of whom are scattered across the country, all about ensuring your ride with Orchard Software products is top-notch. Think of us as the friendly faces behind the scenes, tackling your questions, smoothing out any bumps, and handling upgrades — making your Orchard Software experience a breeze. We're here to help, keeping it professional but always approachable. Your satisfaction? That's our daily goal.
What are the primary goals of this group?
After your go-live, any further interactions with Orchard Software will likely be chatting with our team. We do more than just resolve issues promptly and efficiently; we also proudly represent the face of Orchard Software as representatives for the entire company. Our aim? To foster positive relationships between the company and our valued customers.
How does what you do help Orchard's mission?
Orchard Software's mission is to deliver cutting-edge diagnostic information systems, improving patient care through efficient laboratory information dissemination. This relies heavily on the crucial support provided by our team. We play a pivotal role in ensuring the seamless operation of the customer's Orchard products. Our commitment to reliability and expertise is the cornerstone of maintaining customer satisfaction and fostering long-term retention. We're here to keep your Orchard product running smoothly, just as intended.
What are some accomplishments of this group?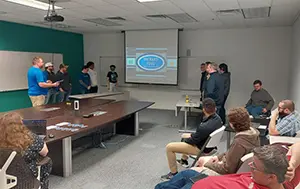 The Orchard Software Technical Support team recently rolled out an impressive upgrade — a new ticketing system. Now, our customers can dive into an online portal where they can create their own support cases, communicate directly with the support technician assigned to their case, and even access online training and knowledge base articles. Thanks to this new system, the team has resolved more than 18,000 support cases so far this year.
Also, we're on a mission to keep everyone up to date by getting all our customers upgraded to the latest and greatest versions of their Orchard Software products. As of 2023, we've successfully completed more than 300 production-system upgrades.
How is your team celebrating Technical Support Appreciation Week this year?
We orchestrated a mini-reunion! We flew in all our remote technicians, and for a whole week, our office was buzzing with familiar faces. It was fantastic to catch up in person. Even though the support hustle never takes a break, we carved out some quality time for games, delicious food (including a cookout with Chef Shawn Russell), and strengthening those personal bonds that fuel our powerhouse team.
Speaking of games, Orchard Feud stole the show! We surveyed the entire company with Orchard Software—themed questions, such as "What is your favorite squishy fruit?" (In case you were wondering, the Apple snagged the number one spot!) Then, everyone on the Technical Support team competed in "families" in a Family Feud—style tournament.