Meet the Orchard Training Team
Each quarter in our recurring Spotlight feature, we highlight an employee or team here at Orchard that deserves recognition for their outstanding work. Orchard's training specialists do an excellent job helming our instructor-led classes each month and creating new content for our eLearning end-user courses. Orchard's training classes have been conducted in an online environment since the beginning of the pandemic, and the training team has been flexible throughout this transition, adapting their courses to this new context. The first quarter of 2022 has seen a big push in our eLearning course offerings, with the trainers adding and updating many new courses for the release of Orchard Enterprise Pathology.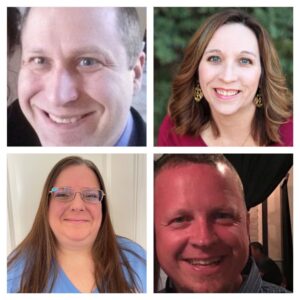 About the Trainers
Orchard Enterprise Solutions
Ed Roberts (ER) is the longest-tenured trainer on the team, having joined Orchard in 2012. Prior to working at Orchard, he worked as an IT specialist, a meteorologist in broadcasting, and, for many years, as a public speaker. At Orchard, he worked in technical support and on the advanced care team before joining the training team. Roberts brings extensive IT skills and a wealth of product knowledge across multiple applications.
Melissa Tucker (MT) has been with Orchard for one year and works remotely from Austin, TX. Before coming to Orchard, she spent 14 years as a medical technologist, and seven of those in lab management. Most of her career has been in the hospital setting, though she has also created and managed labs in urgent cares and emergency centers. She has also taught as an adjunct professor in a clinical laboratory science program at a local university.
Orchard Harvest
Jennifer Elkins (JE) has been a medical technologist for more than 25 years. She has worked as a generalist in small and large hospital labs, as well as in a physician office lab. When the lab where she worked purchased Orchard Harvest, she became the system administrator and eventually became interested in working here at Orchard. At Orchard, she has worked as a field implementation analyst, on the post-implementation team, and as a training specialist on the educational services team. As a previous customer, she can share her experience with the software when developing educational materials.
Brian Lory (BL) previously worked as a biologist at an agricultural science lab. He has also taught courses in anatomy and physiology, biology, and microbiology. His teaching experience has been extremely valuable when working on the training team, and the subjects that he taught relate to what goes on in a testing lab.
---
Ask the Trainers…
What will someone learn by attending an Orchard training class?
MT: In general, you will learn how to utilize the system as an end user, but also the configuration options available to make the system work for your facility. In our System Administration for Orchard Enterprise Solutions class, we talk in-depth about the setup and configuration for the ordering, collecting, receiving, and result delivery areas of the system. In our Laboratory Administration for Orchard Enterprise Laboratory class, we cover similar topics to our system admin and point-of-care add-on courses, but also include advanced hematology and workflows. In our new Orchard Enterprise Pathology course, we go over the ordering and receiving process, working with the AP Case Setup and AP Worksheet, viewing and delivering results, as well as some configuration options available to tailor the system to meet the needs of your specific facility processes and reporting.
JE: In our Orchard Harvest System Administrator classes, students learn how to set up common tables, rules, security, and quality control. In our Orchard Harvest Advanced User class, we discuss a number of topics we don't have time to cover in our system admin class, including automatic result approval and using advanced features in browsers. Our Orchard Harvest eLearning focuses on end-user training and can be helpful with new clients and new employees.
What are your interests, hobbies, or passions outside of work? Tell us more about yourself.
ER: I enjoy spending time with my kids. As a meteorologist, I enjoy watching the weather, and caring for my garden and lawn.
MT: My hobbies currently are taking my three- and four-year-old kids to all their extracurricular activities, including swimming, soccer, basketball, and gymnastics. I love to travel, though don't get to do it as much anymore. I also love to hang out with friends, read, play bunco, sing, lay by the pool, and craft. Some good Vitamin D and music can lift my mood pretty quickly. My husband and I also enjoy visiting breweries and wineries when we can.
JE: Outside of work, I love to spend time with my husband, Alex. I also like taking time to visit my family in Illinois. I like to play games on my tablet at night. I collect all things Cinderella!
BL: I don't have much spare time as I have four children. So, a lot of my time is spent at their various sports practices and games. If I do get some free time and a chance to be somewhere with water, I like to fish, go boating, and read. My reading usually consists of non-fiction books—I really like anything about paleontology, ichthyology, or medical history. I am an avid Star Wars fan (one of my sons is named Luke), and I used to do karaoke pretty frequently.
Anything else you'd like to add?
MT: I really love the functionality and intuitiveness that the Enterprise products have to offer compared to other products I have used. Most notably, the robustness of QC management, the ability to interface hematological scattergrams for review, and the all-inclusivity of the Micro Work Card and AP Worksheets.
ER: Our team had to pivot quickly to virtual learning at the start of the pandemic. Thanks to the work of the team, the transition was seamless, and we were able to provide the same level of education for our clients as we always have. While our students missed the face-to-face networking that in-person learning provided, the virtual classroom environment was very well received. It has gone so well that the decision was made to make virtual learning our permanent mode of instructor-led training. This has not only made instructor-led training more flexible for our clients, but has also allowed us to bring in team members from out of state.