As we have for the last 15 years, Orchard continues to support Special Olympics of Indiana. This year, Orchard employees once again participated in its premier event – the Plane Pull Challenge – where teams go head-to-head with an 82-ton, Boeing 757 jetliner in a massive game of tug of war. The Plane Pull event, which was held on August 13 at the Indianapolis International Airport Postal Hub, remains the largest fundraiser of the year for Special Olympics Indiana.
Orchard's workplace manager Paige Shipley participated in this year's event. "The Plane Pull is great fun for a great cause! I'm so proud of Team Orchard and our history of Special Olympics fundraising," Shipley said.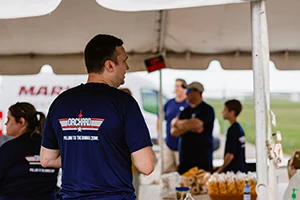 In addition to the main contest, the event also featured a kids-only plane pull, where multiple children of Orchard employees used their strength to pull their very own plane. Food trucks were parked in the airport lot to provide lunch and refreshments for the day. The Indiana Pacemates, dance team of the Indiana Pacers, were in attendance to participate in the fun! A "Hot Shot" basketball tournament was also held, which several Orchard team members played in.
This year's Plane Pull Challenge raised $147,000 to benefit the athletes and programs of Special Olympics Indiana. We highly value this relationship, and our team members look forward to participating in this event every year.
Check out more photos from the Plane Pull Challenge with this highlight reel on our YouTube channel.