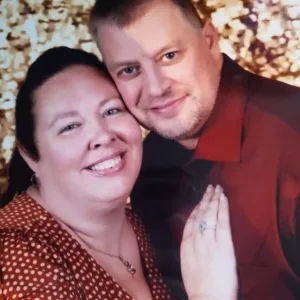 In each of our quarterly newsletters, we select an employee who's doing exciting work at Orchard to showcase in our recurring Employee Spotlight feature. Erin Nelis currently serves as Customer Care Advocate on our Operations team, and she recently played a crucial role in the creation of Orchard's newly enhanced client portal. Erin resides in Whiteland, Indiana, and has been with Orchard for seven years. Read our interview below to learn more about Erin!
Describe your role in the creation of Orchard's updated client portal. How will the updated portal help our clients?
I was one of the initial testers of the client portal and got to work with the team on determining how it would work and look for the client. The portal is going to be amazing for our clients because they will be able to open cases and receive case numbers immediately, see all their cases (open and closed), check statuses of cases, communicate directly with the technicians assigned to their cases, find training documents, and more. The updated portal is more client friendly, and it gives them the control that they have been requesting throughout the years.
What type of work did you do before joining our company?
My degree is in Forensic and Investigative Sciences with a concentration in Chemistry and Criminal Justice. I worked in a private DNA lab directly before coming to Orchard Software, and prior to that I worked in the Drug and Ink lab for the United States Secret Service.
What excites you about working at Orchard?
I love talking to all the different clients, getting to know them, and helping to ease their frustrations. As a bonus, some coworkers have essentially become honorary family members who my kids even adore.
What do you like to do when you're not at the office?
While I am most often chauffeuring my youngest to dance six days a week, I love to watch baseball, read, travel, and see movies with my family.
Any additional information you'd like to share?
I am starting my seventh year at Orchard Software. I started as a Tier I in Technical Support, and eventually moved up to a Team Lead and the Assistant Call Center Manager before moving to the Customer Care Advocate position.

FOR FUN
Motto or personal mantra?
"Keep moving forward." – Walt Disney
"I was in the middle before I knew that I had begun." – Jane Austen
Who inspires you?
My family and friends – those who are and those who are not still with us
What is your biggest achievement to date – personal or professional?
I have been married to my husband Jason for 20 years and have two amazing kids, Cyler (19) and Corinne (15), whom I am beyond proud of.
Favorite newspaper, blog, or podcast?
Newspaper – The Daily News (UK) and CNN
Podcast – Dark History and Smartless
Where's your favorite place in the world?
Disney World and London
What's the last book you read?
I'm currently in the middle of the Sigma series by James Rollins, but before that I was reading Project Hail Mary by Andy Weir.
Favorite sport?
Baseball, by far. Go Red Sox!
What is on your bucket list?
To move to Ireland and hike to the Mount Everest base camp
What music is on your phone?
Everything from Eminem, to Selena (both Gomez and Quintanilla), to Fall Out Boy, to Fleetwood Mac, and everything in between. It's baseball season, so my ringtone is currently "I'm Shipping Up to Boston" by Dropkick Murphys.