What is your position at Orchard?
Field Implementation Analyst III
What type of work did you do before joining our company?
Department Supervisor of Clinical Microbiology, Immunology, Virology, and Molecular Testing at a local hospital. Integration Application Specialist for bioMerieux MYLA® Middleware with Vitek 2, BacT/Alert, and Vitek MS Middleware connectivity to LIS systems and customer support.
What excites you about working at Orchard?
As a Laboratorian and Microbiologist, the most exciting part of working at Orchard is traveling to laboratories across the nation, and understanding how regional/individual laboratories respond to emerging infectious diseases through diagnostic testing and what regional microbiological pathogens are present in their unique/individual communities.
What do you like to do when you're not at the office?
I am an avid YOGI and I travel with my yoga mat. My yoga practice is an important part of my daily life. I like to stay active with long distance running and High Intensity Interval Training (HIIT) exercise. I am a huge Star Wars nerd, so any chance to watch the movies, Disney+ shows, comics, is pure enjoyment. I enjoy gaming on my Nintendo Switch, especially ZELDA games. I am a big fan of anything DISNEY, so we are often at the Walt Disney World Parks in Orlando, FL. If I am home, I like to spend my time relaxing at my nearby beaches and getting some sun.
Motto or personal mantra?
"Be who you are and say what you feel, because those who mind don't matter and those who matter don't mind.." – Dr. Seuss
Who inspires you?
My Father inspires me greatly. He was in a work related accident  and became severely handicapped.  This did not stop him, whatsoever, for continuing to work, support his family, go back to school and obtain his Bachelor's degree in Computer Technology.   He never gives up, and will always be there, front and center, to support his family and friends, with whatever they need, despite his own limitations.  He inspires me daily!
What is your biggest achievement to date – personal or professional?
Besides working at Orchard as a FIA, I am a student of sommelier services and wine studies. I have passed my Level 3 Certification in Wine Education from the WSET International Program.   This was a year-long program of studying international wine regions, geographical and cultural differences in wine production, fermentation processes, and wine characteristics and flavor profiles between varieties and regional differences to help identify the wine in the glass. My exam was 100 multiple choice questions, 8 essays, and blind tasting both red and white wine varieties for identification and quality assessment.   I passed my exam with MERIT Distinction, which was a high honor.
Favorite newspaper, blog, or podcast?
Star Wars Explained Podcast
Wine Enthusiast Podcast
Somm TV Podcast
Mens Health Magazine
Where's your favorite place in the world?
Currently, my favorite place in the World, is Walt Disney World in Orland, Florida. Being in the Magic Kingdom, as well as the other Disney Parks, always puts a smile on my face and provides me a sense of childhood happiness. There is nothing more enjoyable than spending the day at the Magic Kingdom with my husband, sharing a Mickey pretzel, and seeing our favorite Disney characters roaming the around the parks!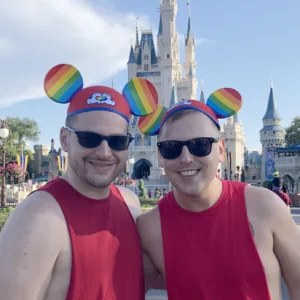 What's the last book you read?
Star Wars: Shadow of the Sith by Adam Christopher. Beyond Flavor "The indispensable Handbook to Blind Wine Tasting" by Nick Jackson, Master of Wine
Favorite sport?
I like to watch Football and Hockey. I like to participate in long distance running (community races and running events)
What's your secret talent that no one knows about?
I do have a unique talent, of identifying an actor/actress in one particular show/movie and being able to name a few other shows/movies that the actor/actress had a previous role. I may not remember their name, but I can recall 3-4 other movies where I have seen them.
What is on your bucket list?
A meditative yoga trip to Bali, Indonesia and a trip to Italy to explore the history, food, wine, and culture. I want to try coral reef scuba diving.
What music is on your phone?
Top 40 Hits – for running and exercise. Disney Classics – for long car rides up to Disney. PRINCE!!!!!