What weighs 8,500 pounds and stands up to 20 feet tall?
Our clients, employees, and trade show visitors know that the answer to the question is our Sequoia tree, which has been the centerpiece of Orchard's trade show booth and presence for almost ten years at the industry's largest shows. Given Orchard's updated brand image and the transformation in the trade show industry over the last few years, we took the opportunity to update our booth and made the decision to retire our Sequoia tree.
A New Home
As a result of our booth update, our Marketing team went right to work and found our beloved Sequoia an amazing new home at The Children's Museum of Indianapolis! It's awesome to know that the tree and this gift from Orchard will continue to be enjoyed by many. Orchard's Strategic Marketing Manager, Megan Renn, was especially instrumental in coordinating this extremely complex move with the museum.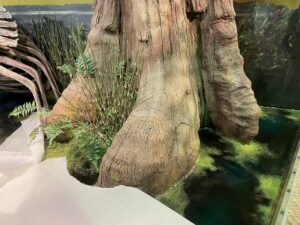 See it for Yourself
The tree is housed in the newly renovated dinosaur exhibit at The Children's Museum of Indianapolis, which opened on March 19th. If you go, look for the sign next to the tree that recognizes Orchard's donation.
Thank You for Supporting Our Trade Shows
Thanks to everyone who has been, and continues to be, involved in our trade shows. Our Marketing and Sales teams are looking forward to returning to a more normal trade show circuit in 2022, and to revealing our refreshed booth this year. We will be exhibiting at APHL, COLA, and AACC throughout the next few months, and we hope to see you there!