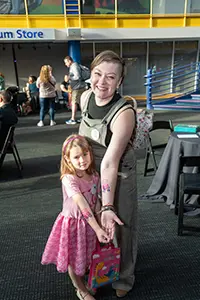 This year, we continued to celebrate Orchard's 30th company anniversary with the return of one our longest running traditions and most popular events: the Orchard fall party! This year marked the first time ever that the fall party was held at the Children's Museum of Indianapolis, and it proved to be a great venue for this fun, family friendly event. Orchard has a special relationship with the children's museum because we donated our Sequoia tree, the former centerpiece of our trade show booth, to the museum's Dinosphere exhibit in 2022. Many employees enjoyed seeing the famous tree in its new home for the first time.
Highlights of the 2023 fall party included the return of the highly requested caricature artist – a favorite among the kids (and children-at-heart) – and a family photo booth with wacky props. Employees also had access to some of the museum's permanent exhibits such as the Dinosphere, an enchanting recreation of prehistoric life.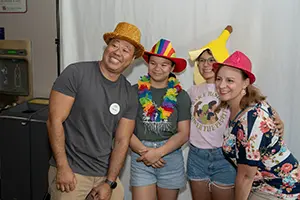 Jessica Campbell, a content developer on the Educational Services team, attended the event. "My family really enjoyed the Dinosphere. We were surprised to learn that several of the bones on display were real—not casts! We also got to see and hear the backstory on Orchard's sequoia tree. And our new caricature is a treasured keepsake," Campbell said.
Many thanks to our workplace team – Paige Shipley and Sean Millard – for organizing another stellar event. Orchard looks forward to continuing this tradition for many years to come!