Quilts of Valor (QOV) is a national organization that was founded in 2003 by Catherine Roberts when her son was deployed in Iraq. Roberts had a dream about a young man sitting alone on the side of his bed seeking comfort and an ability to heal from his time served in the military. She then saw the man covered in a quilt. With the quilt around him, she could see that his feeling of being alone was replaced with hope and well-being. The message she took away from the dream was clear: quilts = healing.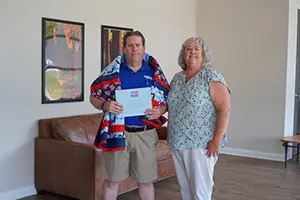 Through a grassroots movement amongst the quilting community, the goal of covering all service members with Quilts of Valor quickly spread from Roberts' sewing room in Seaford, Delaware to local chapters spanning all 50 states in the US. There's even a Quilts of Valor organization in Canada.
Since its launch, Quilts of Valor has awarded over 327,000 handmade quilts to service members and veterans. The foundation has partnered with other groups, such as the Boy Scouts, Girls Scouts, and 4H.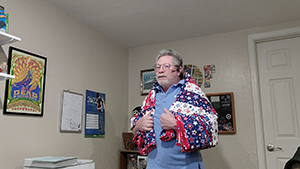 Orchard's Director of Integration, Wendy Forgey, has been involved with QOV for the past few years. "My mom has been making quilts for QOV for many years. I have helped here and there when time permits and my mom needs help," said Forgey. Forgey eventually joined the Baca County Chapter and has helped the group make around 30 quilts per year. This local chapter has awarded around 300 quilts to veterans and service members.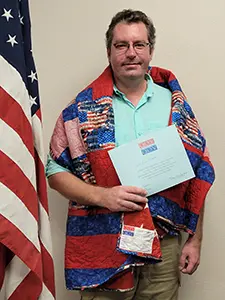 Wendy met with CEO Billie Whitehurst and CFO Eric Doan to discuss ways Orchard Software could be involved with the Quilts of Valor Foundation. They were quickly on board, and four military veterans at Orchard Software were chosen as recipients. Evan Crawford, Patrick Cunningham, Curtis Farley, and Phil Friend were presented their quilts during a ceremony at the Orchard Software All-Company Meeting in July 2023. "I'm so excited to recognize the veterans at Orchard Software with these quilts and look forward to honoring more of them in the near future," exclaimed Wendy.