Orchard Software is excited to announce the addition of a new chatbot, "Orchy," to our website. Upon arrival, you will be greeted by the Orchy chatbot, which you can use to navigate our site more efficiently.

Asking Orchy a question will make it easier to locate the resources and information that you're looking for. If you have a more specific question and wish to speak to a sales representative, a live chat feature is now available as well.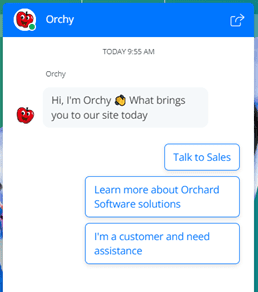 At Orchard, we are committed to keeping you in the know. Subscribe to our blog for industry-related insights and resources. This will also add you to our quarterly newsletter email, where you can keep up with our mascot Orchy's travels.