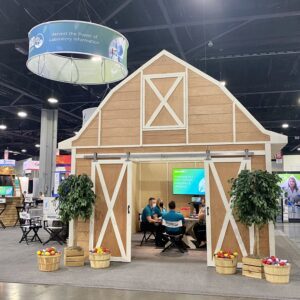 Each year, the laboratory community comes together at the AACC Annual Scientific Meeting & Clinical Lab Expo to collaborate and create system-wide changes that improve patient outcomes. At the 2021 AACC Clinical Lab Expo, there were more than 400 exhibitors at the Georgia World Congress Center in Atlanta with displays of the latest lab-related technologies, including COVID-19 testing, artificial intelligence, mobile health, molecular diagnostics, mass spectrometry, point-of-care, automation, and more. As an industry-leading LIS vendor, Orchard was able to attend the in-person event, meet with many of our customers, and learn what is current and relevant in the laboratory industry.
More Opportunities for Laboratories to Adopt Molecular Testing
There were a significant number of vendor booths presenting molecular testing technologies, with a focus on RT-PCR and rapid testing. This boon is attributed to the advances in molecular diagnostic testing that continue to improve the accuracy and speed by which we can detect microbial pathogens or analyze a patient's genes, which is quickly moving our healthcare system to more proactive and patient-tailored interventions.
Because of rapidly advancing technologies, molecular testing was on the rise even prior to COVID-19. The industry's response to the pandemic necessitated a rapid influx of molecular testing capability. Now, as COVID-19 testing demands shift, many laboratories have to determine how to best utilize their recently acquired molecular testing capacity.

Point-of-Care Testing Is Also on the Rise
The AACC expo also had quite an expansive array of point-of-care testing (POCT) vendors, as this technology is also seeing greater adoption. POCT is becoming more readily adopted in today's healthcare arena because of its tremendous potential in value-based care, specifically in situations where a rapid turnaround time can have a profound impact on downstream costs and outcomes.
The biggest advantage to POCT is that it provides faster access to test results, which can speed diagnosis and subsequent treatment. This need for rapid results was made quite evident as laboratory professionals addressed the pandemic on the front lines.
AACC Overview: Focus on the Future of COVID-19 Testing
The AACC Expo offered five days of learning and networking opportunities. Sessions delved into COVID-19 vaccines, virus evolution, and lessons learned from the pandemic. There were sessions on artificial intelligence, miniaturization of diagnostic platforms, and how lab testing is influencing treatment improvements.
The meeting gave the laboratory community the opportunity to come together safely to share lessons learned from the pandemic, to discover what is on the horizon for COVID-19, and to appreciate the recent, well-deserved recognition for all of the hard work that takes place behind the scenes in laboratories across the country and the world.