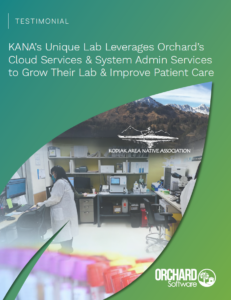 Kodiak Area Native Association (KANA) realized during the COVID-19 pandemic that they needed a laboratory information system (LIS) to automate test ordering and reporting and create system-wide efficiencies. With Orchard's LIS solutions, they were able to grow their lab and better serve the patients they care for across a wide geographical area. 
Read the full customer spotlight article here.
"Orchard's solutions enabled our lab to achieve its overall goals of efficiency and quality—and continues to every day!"  
– Ashley Frost, MHA, MLS(ASCP)CM, Commander, United States Public Health Service 
KANA Responds to the COVID-19 Pandemic
KANA had to rapidly increase its laboratory capabilities to respond to COVID-19. During this process, it became apparent that the lab's current capabilities were inefficient due to manual processes that could be automated with an LIS.  
LIS Boosts Performance
After implementing Orchard's system, post-implementation analysis of the critical lab tests  identified that 84.6% of all laboratory tests are now performed in-house. 
Having an LIS integrated to instruments and the electronic health record (EHR) greatly improved KANA's processes because it automated test ordering, reviewing, and reporting. With their Orchard LIS solutions, they have eliminated manual entry—saving an enormous amount of time and greatly reducing errors. 
Best Care for Their Patients
KANA's lab plans to continue to grow and gain efficiencies using their Orchard LIS solution to its maximum ability and find ways to support their patients and community.  
"Orchard's products have really met our expectations. With any question, complaint, concern, or opportunity, we have found Orchard to be incredibly receptive. We like to use our programming to the top of its capabilities and having a software program that is designed to be used by a lab has changed our perception of LIS/LIMS products." 
– Ashley Frost, MHA, MLS(ASCP)CM, Commander, United States Public Health Service