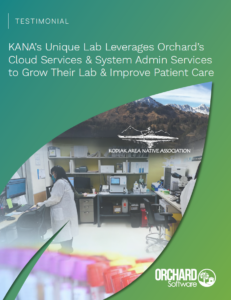 Kodiak Area Native Association (KANA) is a community health center with two locations and six remote village clinics in Kodiak, Alaska. They have provided healthcare and social services for Alaska Natives and communities throughout the Koniag region since 1966 with the goal of improving the health and well-being of their patients and communities.
KANA realized during the COVID-19 pandemic that they needed a laboratory information system (LIS) to automate manual test ordering and reporting and to create system-wide efficiencies. KANA partnered with Orchard in August of 2020 and implemented cloud-hosted Orchard® Point-of-Care™ and Orchard® Outreach™ in 2021. With Orchard's LIS solutions, they were able to grow their lab and better serve the patients they care for across a wide geographical area.
Read the testimonial today to learn about how KANA's laboratory has benefitted from implementing Orchard's solutions!