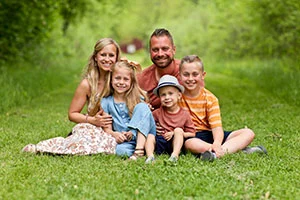 In each of our quarterly newsletters, we select an employee who's doing exciting work at Orchard to showcase in our recurring Employee Spotlight feature. Tony Rowe has been with Orchard for nearly 15 years and currently serves as Director of Corporate Sales. We spoke with Tony about some of his professional motivations and personal values. Read our interview below to learn more about Tony.
What type of work did you do before joining Orchard?
I was a Customer Service Representative for an electronic voting system vendor based in Indianapolis.
What excites you about working at Orchard?
The secret sauce of Orchard Software is the people. For almost 15 years, I've had the privilege to work with some amazing people (many of whom I consider lifelong friends) that consistently put their clients' and colleagues' needs before their own.
What do you like to do when you're not at the office?
When I'm not working, you will probably find me coaching and watching my kids play sports (soccer, basketball, baseball, softball). My wife and I were always involved in athletics growing up and we think there are so many great life lessons to be learned in youth sports (teamwork, competition, sportsmanship, and accountability). When I have time, I enjoy hunting whitetail deer in the fall and bluegill fishing in the summer. I try to spend as much time as possible outdoors with my family riding bikes, running, hiking, and going to the beach in St. Joseph, MI. Family vacations are also an important part of my life. Some of our favorite places to visit are Disney World, Wisconsin Dells, Northern Michigan, St. Lucia, and the Great Smokey Mountains in Tennessee.
Any additional information you would like to provide:
I've been married to my wife Beth for 14 years, and we have three children – Clark (11), Hazelle (8), and David (4). I attended Ball State University, where I earned a Bachelor's of Science, double majoring in history and political science.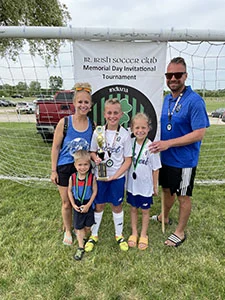 Motto or personal mantra?
"Life is hard, get a helmet."
"Fair is a place where you show pigs."
"Do the right thing, and good things will follow."
Who inspires you?
I am a big fan of Simon Sinek's work and I am inspired by people in positions of authority that exhibit true servant leadership.
What is your biggest achievement to date – personal or professional?
Marrying my wife Beth and building our family together.
Favorite newspaper, blog, or podcast?
The Dan Le Batard Show with Stugotz (podcast)
Where's your favorite place in the world?
Sitting around a fire on a cool fall night with friends and family.
What's the last book you read?
Extreme Ownership by Jocko Willink and Leif Babin (2015)
Favorite sport?
Soccer and golf
What is on your bucket list?
To vacation in England and attend soccer matches at many different tiers of the English Football League.
What music is on your phone?
Everything from The Beatles to Kendrick Lamar.