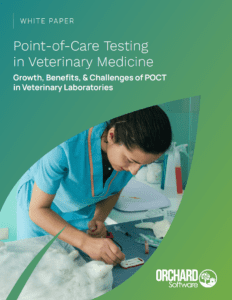 With more than 70% of people in the United States as pet owners, annual spending on veterinary care is more than $34 billion. Similar to healthcare for humans, veterinary care is experiencing a shift to a more value-based model. In veterinary value-based care, there is a particular focus on end-of-life care and owner preferences.
Laboratory testing for veterinary medicine encompasses large and small animals, as well as diagnostic and research testing. Veterinary laboratory testing takes place in clinics, hospitals, universities, and research facilities. And, while different from human laboratory testing, veterinary laboratory testing involves all the same elements for the best patient care—patient assessment, diagnosis, treatment planning,  and follow-up. Laboratory testing includes diagnostic services for all animal species, including necropsy, bacteriology, clinical chemistry, serology, endocrinology, histopathology, immunohistochemistry,  virology, parasitology, molecular diagnostics, genetic testing, and toxicology.
Many veterinary clinics perform basic laboratory tests in-house and refer more complex testing to larger veterinary referral laboratories. Veterinarians have long used point-of-care testing (POCT) for diagnostic purposes because of its convenience and timeliness of results. Advances in the development of molecular POCT are expected to greatly contribute to veterinary diagnostics and contribute to improved antibiotic stewardship. In order to manage POCT across locations, veterinary labs can benefit from a POCT data management solution.