Billie's Corner – Celebrating 30 Years of Laboratory Software Innovation
By Billie Whitehurst, CEO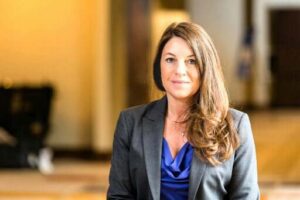 At Orchard, we feel a strong connection to our laboratory partners, and we are proud to support the laboratory industry's vital role in patient care. In 2023, together we celebrate 30 years of collaborating to design and implement innovative laboratory information systems that drive quality, safety, and excellence in patient care.
Focused on the Lab from the Start
Since Orchard's start, our strategic direction has been driven by our customers and the market. We have had a keen focus on staying ahead and innovating so that our customers would be ready for what came next. Our solutions have always been targeted at adding value to laboratories and providing the tools necessary to improve patient care and operations.
Orchard's History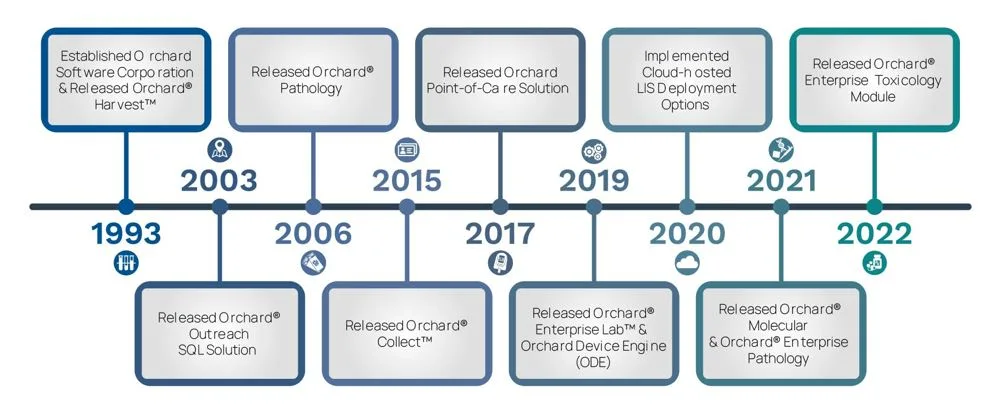 Founded in 1993, some of you may remember the first version of Orchard's LIS—Costello™. Seven years later, our flagship LIS was renamed Orchard® Harvest™, and our first web-based outreach module was released (See Figure 1). In 2004, we added an additional web-based outreach solution built upon the Microsoft SQL platform, followed closely by a fully integrated Anatomic Pathology system.
Since then, we have steadily grown, continuing to listen to our customers to develop solutions that thousands of laboratories use to drive effective workflow and operations. Specifically, over the past 10 years, Orchard has developed the most comprehensive laboratory information system in the U.S. market including clinical, outreach, pathology, point-of-care, and toxicology solutions plus a patient portal. Orchard has also developed a comprehensive Cloud Services Solution, enabling our customers to improve their system security, increase reliability, simplify maintenance, and ultimately focus on patient care and lab operations. To support our customers' molecular testing needs, in 2021, we acquired Corwen, a molecular testing software company and released Orchard® Molecular.
Continued Investment on Innovative LIS Solutions
We continue to innovate and grow alongside our lab partners to develop solutions that the lab can rely on now and in the future. To empower our customers to leverage the value of laboratory data and analytics, we are in the final phases of development of Orchard® Insights, our enterprise analytics solution. We continue to work on all of our solutions to provide more efficient and effective support and communication.
Congratulations on 30 years of leadership and innovation based on our working relationship. We look forward to a bright future and many more years of LIS innovation and growth!